How to Choose the Right Vape – A Buying Guide
With the vaporizer market exploding in popularity, there are literally thousands of products to choose from.  If you're looking to buy your first vape or add another piece to your collection, it can be extremely difficult to sift through all the options.  In this article, we'll help you define your vaping needs and choose a vaporizer that'll get the job done for you.
Portable or not?
The first question you should ask yourself is if you want the ability to take your vape with you on the go.  Most vaporizers are small enough to fit in your pocket, but there are several larger options that make better pieces for a home setup.  If you primarily smoke at home, you're better off going with a more powerful, versatile setup.  That said, vapes are the perfect way to enjoy a quick session on a walk in the park or a night out on the town. Take a look at the best portable vaporizers.
The type of cannabis you'll be smoking
Vaporizers are designed with a specific type of cannabis in mind – i.e. dry herb, oils, wax, etc.  Do you typically smoke dry herb?  Do you have access to a wide selection of oils whenever you want?  Make sure you choose the vaporizer that corresponds closest to your typical stash.
This leads to another benefit of the larger desktop vaporizers, as many of them can handle different variants of cannabis.
How much do you want to pay?
Cost is always a factor when making a new purchase.  When it comes to vaporizers, it really depends on how much you're going to use it and what you need it for.  Are you only going to smoke your vape occasionally or do you want an everyday piece?  Do you want something technologically advanced, durable, or with customizable settings built into it?  Do you want to be able to smoke your vape while it's charging?  All these added features will cost money, but can be worth it if it'll suit your needs.  You can get a decent dry herb vape for less than $50 or you could pay 100s of dollars for an advanced desktop rig.
Other factors to consider are that more expensive vapes will heat up faster and will provide you with more battery life between charges.  There's a lot to think about, but ultimately you should define your needs and your budget before you start shopping.
Different types of Vape Technology
Vapes come in many shapes and sizes, but at the end of the day they're all built around one of the following technologies:
Something to be aware here is that conduction vapes produce much more smoke than convection vapes.
So, if you're interested in producing massive clouds when you smoke, you'll want to pick up a conduction vape.  Anyone you see doing smoke tricks is using one of these.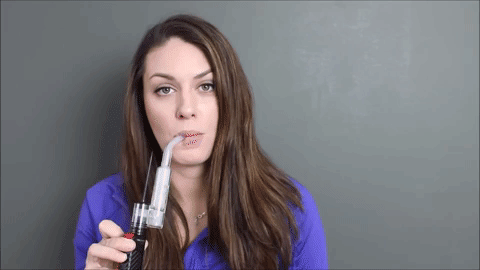 No matter what, it's important to remember that there are tons of options out there to meet anybody's preferences.
Take your time searching and you'll find the right one for you.